DESIGNS:
To give you an idea how our designs are created, follow along below as we go from flowers to product with one of our most popular mixed flower designs.

The Beginning - Our Flowers Nearly all of our flowers are gathered from our own gardens or surrounding areas, although we have been known to pick up a florist's bouquet if it catches our eye. Since we are located in New York and in Texas, this means that we have a wide variety to choose from. Our favorite method of preserving their color and beauty is either to take digital photographs in situ or to arrange the flowers in pleasing designs and then photograph or digitally scan them.
In this particular example, the sunflowers and other colorful complementary flowers were arranged on a flat scanner bed and then scanned at high resolution. The image below is the result of this process.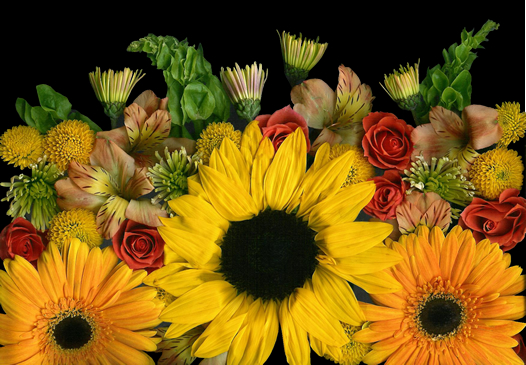 The Creating - Our Working Designs Once we have obtained a digital image, we trim it and might remove the scanner background in our photoediting software. At this point, it is essentially ready for use. We may further enhance it with various graphical elements such as borders or different backgrounds to create variations on the design as shown below. Even so, flowers remain the prime element in our designs!
Transparent: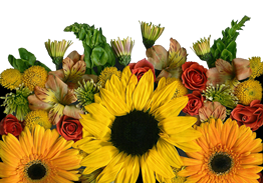 Blue sky: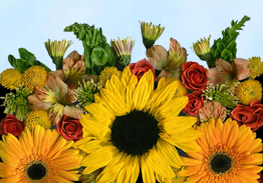 The Finalizing - Our Products Now comes the exciting part - what products can we make with our flower designs? In the case of our sunflower mix design, we have produced a number of different items, some of which are shown below. Aren't they fun?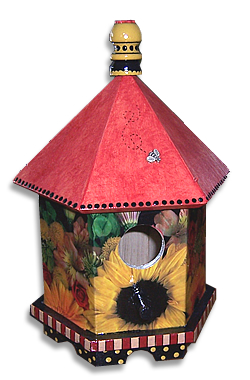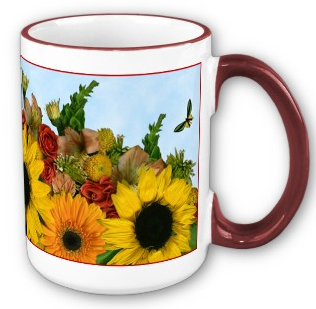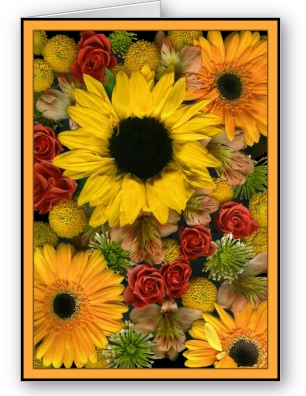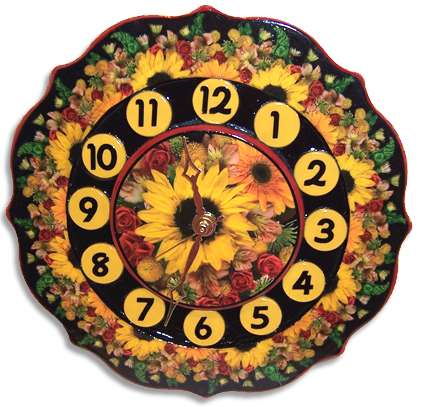 To see more of our products, go directly to the Shop here, or use the Shop Online link at the top of the page, or choose one of the quick links below to browse products in our online catalog. You can also find more of our products on our sister site at Zazzle. If you are looking for something special, please feel free to contact us by email or mail (here or see the Contact Us link at the top of the page).