For our customers wishing to pay with a credit or debit card, or through direct bank transfer, FleurDesigns offers separate and secure payment processing through PayPal. Please note that you DO NOT need a Paypal account to pay with Paypal. When checking out, choose the Paypal (with credit card icons next to it) option as your payment method and you will be forwarded to a secure page at PayPal. The checkout process there is detailed below. After completing payment, you will be given a chance to create a PayPal account or be redirected back to FleurDesigns.
Important Reminders
Payment is due at the time of purchase; if there is no payment or contact within 24 hours of purchase the transaction will be voided and the item will be re-listed.
Since we do not process credit cards through FleurDesigns, your credit card information is not requested, stored, or otherwise accessed in any way by us.
In the rare instance that an unauthorized person does obtain your credit card information and uses it, or in any instance where you have discovered or suspect fraud, you need to immediately contact your credit card company.
PayPal's fraud prevention measures are in effect for buyers who use their checkout process and choose not to create an account. PayPal applies the same techniques for this checkout as it does for other transactions.
Using Paypal to Pay
Briefly, here is how this checkout works:
When you click on the "Pay with PayPal" option on our website, you will arrive at a secure page at PayPal that will ask for login info.
Either enter your existing PayPal account information or continue without creating an account.
Review your name and shipping address and add any other information as requested.
Optional) After reviewing your information, you may choose to save it by creating a PayPal account to make future transactions faster.
Continue until you receive a transaction number, confirming your payment. At this point, you may return to FleurDesigns.
The Details
Admittedly, PayPal makes it difficult to figure out how to checkout without creating an account. When you click on the "Pay with PayPal" option on our website, you will arrive at a secure page at PayPal that will ask for login info. Customers without a PayPal account or not wishing to create one should ignore the login and look for the option (on the left hand side) to pay using your debit or credit card and click "continue".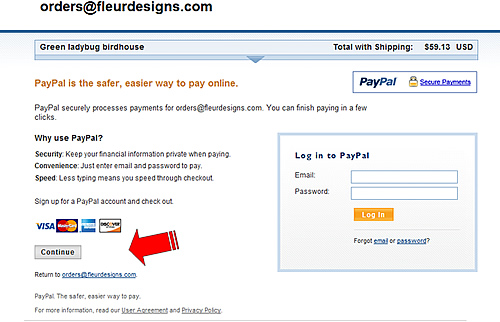 The next page is a typical information request page and some of your information (name and email address, for example) may already be entered. Fill in the rest with your credit card data, your billing address (this must match the address on your credit card!), phone, and create a password to protect your PayPal transaction. Click "Agree and Continue".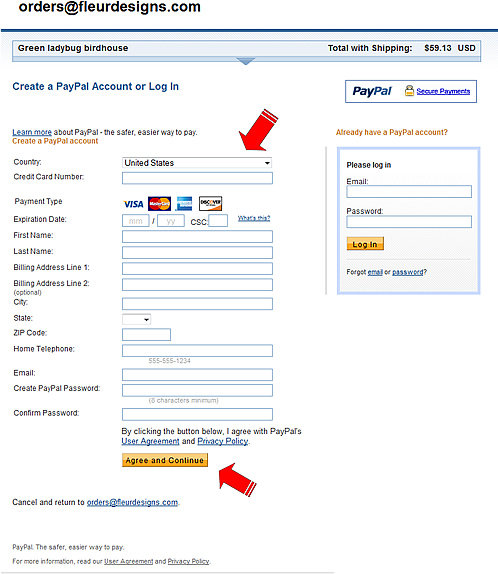 Review and confirm your information on the next page. If all is correct, click "Pay Now".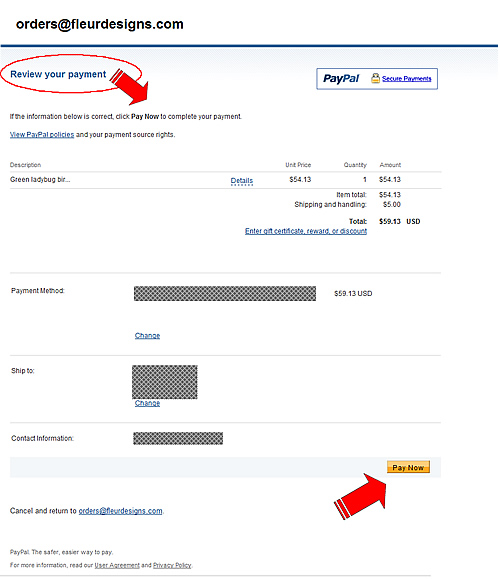 The final page indicates your transaction number, gives you the option of printing a receipt, and finally links you back to FleurDesigns.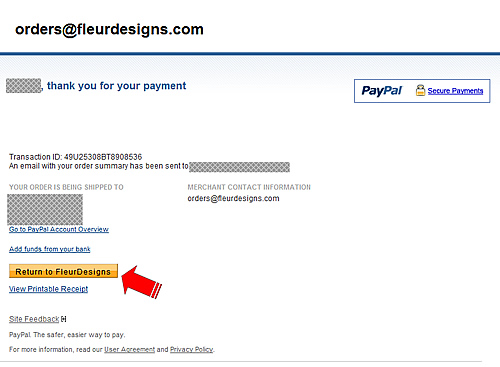 We hope your shopping experience is a pleasant one. If you have any questions, or comments, or concerns, PLEASE, do not hesitate to contact us!