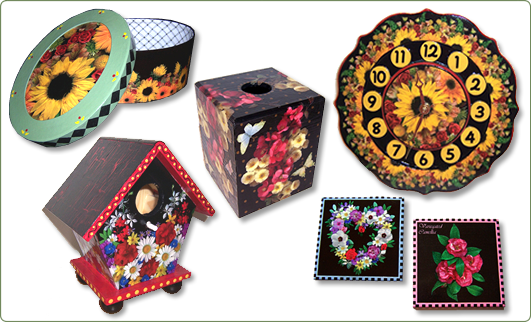 Some examples of products you might find in our shop
We LOVE flowers! Through digital imaging and other techniques such as pressing and drying, we can preserve their ephemeral beauty and prolong this enjoyment over the darker months when flowers are not in bloom. Our favorite technique at FleurDesigns involves capturing images of single flowers or arrangements of real flowers and foliage mainly from our own gardens with a camera or scanner. We then use these wonderful images to create a variety of products to enhance your home and surroundings. Our limited edition products are carefully handcrafted, exciting and colorful, and bring the joy of flowers to you throughout the year.
We invite you to browse through our online catalog here or check out our other products on our sister site at Zazzle. If you find we are out of stock of an item that catches your eye, or if you are looking for something special, please feel free to contact us directly through the Contact Us link above. Custom designed products using special event flowers or invitations are also available on request.
We look forward to hearing from you!